About a weekend ago I went to see the Napoleon exhibition at the NGV. It was pretty interesting to see Napoleon's statues get fatter as the exhibition went on. Clearly he got a bit used to fame and fine dining (disclaimer: I know nothing about history ((Napoleon history)) (((YES I went to the exhibition whateva))) so please forgive me). And why am I talking about Napoleon? I don't know! BUT at the gallery shop, this is what I found: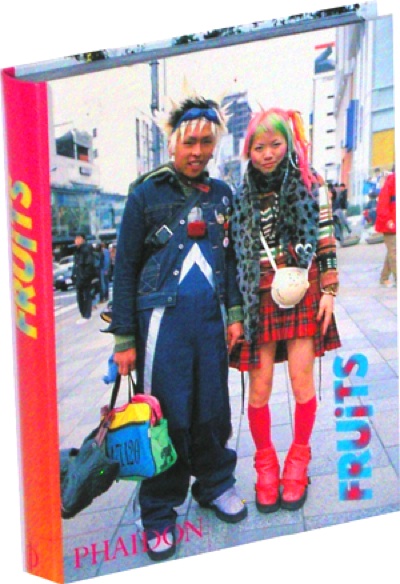 FRUiTS
!!!! OK I knew nothing about the magazine before I bought this, but my friend changed my life by finding this collection of Japanese street style images. So it was maybe published in 2001 but who cares the fashion is still so cute! Here are some of my favourite images.
IDEK what that is but it's cool.
I love her sassyness and her skirt.
Backpacks and strawberries! <3
Super cute shoes.
I love the make up and hair of these girls.
He has a cow. On his t-shirt.
CUTE JAPANESE SHIT
Vivienne Westwood shoes which I will own one day.
Sailor Moon! Why not????
Super amazing skirt.
Ripped white fishnets *saves into filing box of things to do*.
Excuse that crappy images that I took with my camera which you could probably just find on the internet somewhere.
All images from Fruits - Phaidon Press.
My friend and I decided to go to Chocolate Buddha because we just needed some Japanese food after looking at all those Japanese clothes. We shall now take this momentary fashion break to look at my lunch. Start salivating.
I was so inspired by the converse + coloured socks thing going on in FRUiTS I decided to recreate it at home, with my sparkly converse that I'm still wearing about 2 years after I got them. I praise Mr Chuck Taylor that the sparkles are still intact.
Speaking of sparkles (
do I always somehow get on to sparkles in every post?)
I bought my formal dress! And it has sequin embellishments, that's how it relates to sparkles. I don't think I'll put a picture up until I actually wear it, but I thought I'd tell you because I bought it from this amazing Melbourne brand called
DI$COUNT
. They had a pop-up shop on the weekend and I even QUEEUEUUED (how do you spell that?) to get in. It was well worth it, though.
Above two images by me.
Back-tracking to Asian style, an equally FRUiTful (omg so relevant) source of inspiration is k-pop videos! I had a thing for k-pop about 2 years ago, and now I think I'm getting into it again. Here are some of my all time k-pop favourites to finish the post.